Erweiterungen für Mozilla Firefox - Seite 7
Mozilla Firefox bietet neben der hohen Sicherheit eine Menge an guten Funktionen. Mit kostenlosen
Extensions (Erweiterungen)
kann der Funktionsumfang erweitert werden. Mit
Themes
kann der Browser auch optisch angepasst werden.
Die integrierte Schnittstelle macht diese Vorgänge einfach.
Erweiterungen für Firefox:
User Agent Switcher
Erweiterung um den Firefox Browser als einen anderen ausgeben, um z.B. eine Seite anzusehen, die normalerweise nur den Internet-Explorer oder sonst einen Browser zulässt.
This extension adds a menu to switch the user agent of the browser. It is designed to provide functionality similar to the "Browser Identification" feature of Opera and allows you to configure the list of user agents to display in the menu.
Launchy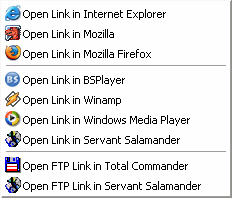 Mit Launchy können Webseiten via Kontextmenü ohne Umwege in diversen anderen Browsern und Programmen zwecks Analyse und Bearbeitung geöffnet werden. Oder ein Medienfile mit einem anderen Programm öffnen. Unter Windows erkennt Launchy vorinstallierte Programme, und richtet diese selbst ein. Darunter Software für Bildbearbeitung, Email, FTP, sowie einige Editoren. "Launchy" funktioniert auch mit Mozilla, Thunderbird, Netscape and NVU.
Launchy is a Mozilla, Mozilla Firefox, Mozilla Thunderbird, Netscape and Nvu extension that will enable you to open current page, links, mailto, images and view source with external applications. Both browsers, media players, FTP clients, download managers and editors are supported. That's applications like Internet Explorer, Opera, Mozilla, Outlook, BSPlayer, Windows Media Player, GetRight and others.
Currently the following 63 applications are supported and automatically detected:
Browsers:
Mozilla
,
Mozilla Firefox
,
Mozilla Firebird
,
Netscape
,
K-Meleon
,
Internet Explorer
,
Opera
,
Maxthon
,
Crazy Browser
,
Avant Browser
,
Slim Browser
Mail:
Mozilla Mail
,
Mozilla Thunderbird
,
Outlook Express
,
Outlook
,
Pegasus Mail
,
Eudora
,
Lotus Notes
,
The Bat!
,
IncrediMail
,
Calypso
,
PocoMail
,
Forte Agent
Media:
BSPlayer
,
Winamp
,
Windows Media Player
,
iTunes
FTP:
Total Commander
, UltraFXP,
WS_FTP Pro
,
SmartFTP
,
BulletProof FTP
,
FileZilla
Download:
GetRight
,
LeechGet
,
Mass Downloader
,
Star Downloader
,
Internet Download Manager
,
ReGet Deluxe
,
BitTorrent
,
FlashGet
,
WackGet
,
Offline Explorer Pro
Editors:
Notepad
,
UltraEdit
,
OpenOffice.org
,
Mozilla Composer
,
WordPad
,
Syn Text Editor
,
TextPad
,
EditPad Pro
,
Zend Studio
,
Vim
,
PSPad
Image:
XnView
,
Paint Shop Pro
The autodetection of applications is a Windows only feature.
OpenSearchFox
This is an extension automagically create search engines for you.
Open the search webpage, right-click on the input field of keywords, and click "Add OpenSearch plugin".
All you have to do is click and click.
AutoFill
Es ergänzt Firefox um eine Formularausfüllfunktion. AutoFill füllt mit einem Klick Formulare aller Art automatisch aus. Es werden auch mehrere Benutzer werden unterstützt. AutoFill einrichten: Über EXTRAS/AUTOFILL/AUTOFILL OPTIONS gelangen Sie in die AutoFill-Einstellungen. Mit einem Klick auf ADD PROFIL lässt sich ein neuer Benutzer anlegen. Füllen Sie das Formular aus. Um den AutoFill-Button auf die Firefox-Symbolleiste zu bringen, klicken Sie mit Rechts auf die Leiste und wählen ANPASSEN. Ziehen Sie das Bleistiftsymbol aus dem geöffneten Fenster an die von Ihnen gewünschte Stelle in der Leiste. Stossen Sie im Internet auf ein Formular, werden die Daten mit einem Klick auf das AutoFill-Symbol eingefügt. AutoFill kann alle Felder die ausfüllbar sind auf Wunsch einfärben.
Screenshot
Features:
Creation of an unlimited number of user profiles
Automatically highlight all the fields in the current form that can be filled in
Manifests as an additional toolbar button that can be added to any existing toolbar (e.g. the Navigation Toolbar) (to save screen real estate)
TRUE support of RFC3106 (Google Autofill claims to support it, but actually doesn't)
Support for autofill of Credit Card information (All credit card information is stored encrypted and password protected)
Matching of form fields on field name or field label
1
2
3
4
5
6
7 ] Lesen Sie Mails - keinen Spam
Thunderbird
ist die perfekte Ergänzung zu Firefox.